10 Ways To Make Money With Your Music That Didn't Exist 10 Years Ago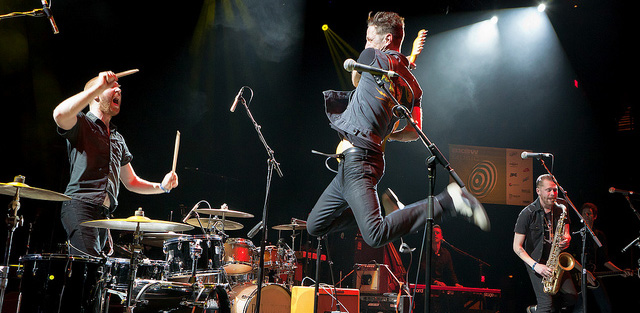 1) Crowdfunding
Kickstarter has lead the way with nearly $120 million going to successful music projects. IndieGoGo is a close second and, unlike Kickstarter, allows creators to keep the money even if a project is unsuccessful (if the creator chose "flexible funding"). The most successful music crowd funding project is of course Amanda Palmer's project which raised $1.2 million for her album. But there have been over 18,000 successful Kickstarter music projects (mostly funding albums) ranging from $1,000 to $1.2 million. Crowdfunding has been a great way for indie artists to bankroll their albums and tours without a label or investor.
And the newest of the crowdfunding bunch is Patreon. I call it Crowdfunding 2.0. Creators on Patreon ask their fans for continued financial support (patronage). Most patrons pledge $1-5 per piece of content released (music video, song, blog post, podcast, whatever) But some have pledged upwards of $1,000 PER PIECE OF CONTENT, because they can afford it and they really love the artist. Patreon launched in 2013 and is now paying out over $1 million per month to creators. This model embraces the new philosophy of asking your fans for support, not forcing them to buy. Because album sales are in a free fall, this is the next best solution for independent musicians with a highly engaged audience.
2) PledgeMusic
Some people lump PledgeMusic in with Kickstarter and IndieGoGo. I don't. PledgeMusic is different. It has changed the way the modern album campaign works. The pre-order on PledgeMusic is much more than just an advanced purchase of the album. Running a PledgeMusic campaign invites the fans into the entire album making process from start to finish. Some bands literally live stream from the studio to their backers. Many large bands who don't need the money still run PledgeMusic campaigns (without the crowdfunding element) because it increases fan engagement and opening week sales. Artists like 311, Ben Folds Five, Imogen Heap, Howie Day, Korn (with the backwards R) and Lucinda Williams have all run campaigns. Many actually charted on Billboard in the opening week (all pre-order PledgeMusic sales are reported to Soundscan for chart placement).
3) Self Managed Digital Download Stores
BandCamp has been the most successful artist-managed music store (no labels allowed) and currently pays out over $3 million a month to independent artists. Their "name your price" model has personally allowed one of my fans to pay me $200 for my new album and another fan paid $20 for a single. BandCamp is moving to a Patreon-esque subscription service in 2015. CD Baby, Loudr and Tuneport also offer self-managed download stores that have become increasingly popular amongst the indie music community.
4) BandPage Experiences
BandPage started as a Facebook app to allow bands to post music to their Pages. It has evolved into a musician-fan experience haven. Artists offer "experiences" like meet and greets, soundcheck access, pre-show ping pong challenges, pre-show guitar lessons, green room hangs and anything else you can think of. These experiences have brought in additional income for bands on tour above the standard ticket/merch income.
5) YouTube Ad Revenue and Sponsorships
Companies like Audiam, INDMusic, Fullscreen, Maker Studios, ONErpm, AdRev, Believe and Rumblefish collect YouTube ad revenue for artists and labels. Multi Channel Networks like Fullscreen and Maker also act as agents for their creators and negotiate high paying sponsorships for their videos and YouTube channels.
6) Online concerts
StageIt and Concert Window are leading the way in the online concert world. Most shows are "pay what you want" and encourage tipping. I've played a few StageIt shows and have averaged about $5 a head for a "pay what you want" concert (from tipping and tickets). Not bad for playing songs from my living room.
7) Gig Masters
This is like an online event planning company. I've never tried it out, but I have a few friends who get booked for weddings and corporate parties all the time through the site. Customers leave reviews of the artists and the artists' ranking rises the more positive reviews they receive. Gig Masters costs $200-400 for the annual membership, but one booking will typically pay for that.
8) SoundBetter & AirGigs
Mixing and mastering engineers, producers, instrumentalists, singers, and full demo production studios get hired through these sites by artists for their recordings. Live in a remote village in Tanzania and want your epic 127 track production mixed by a Grammy winning mixing engineer? Done! Well, if you can pay their rate of course. This has been a great way for freelance artists with home studios to get extra work – especially if they aren't plugged into an active music town.
SoundBetter just implemented a search by location feature so if you want to find recording studios or live sound engineers in your town, you can find them here as well.
9) YouTube tips
This is a new feature just rolled out this year by YouTube (to compete with Patreon). It's not available to all YouTube users yet (you have to apply), but it's a great way for fans to pay artists directly through YouTube – without having to leave the site.
10) Licensing Companies
Traditionally, licensing departments were a division within publishing companies. But with more and more demand for independent music on TV shows, commercials, movies and trailers, licensing companies have been popping up every day to connect indie artists with music supervisors. Some of the biggest have been doing it for 5-10 years now and have built up pretty solid relationships. Music supervisors love discovering new music to place in their projects, however, with so much music out there they typically only accept music from sources they trust: labels, publishers, artists who they have build relationships with, and now licensing companies. In addition to these more traditional licensing companies that pitch music directly to music supervisors with big budgets, many companies like, Triple Scoop Music, The Music Bed and Audiosocket, clear music with the artists in advance and put the songs up on their site for a set fee to be used, non-exclusively, by photographers and indie film makers. Passive income baby!
+How To Get Songs Placed On TV and In Movies
For all the doom and gloom discussions within the music industry right now, hopefully these 10 avenues shed some light onto how you can diversify your income stream and make a solid living as a musician.
Photo is by Earl McGehee from Flickr and used with the Creative Commons License
Article by
Ari Herstand
Ari Herstand
is a Los Angeles based singer/songwriter and the creator of the music biz advice blog
Ari's Take
.